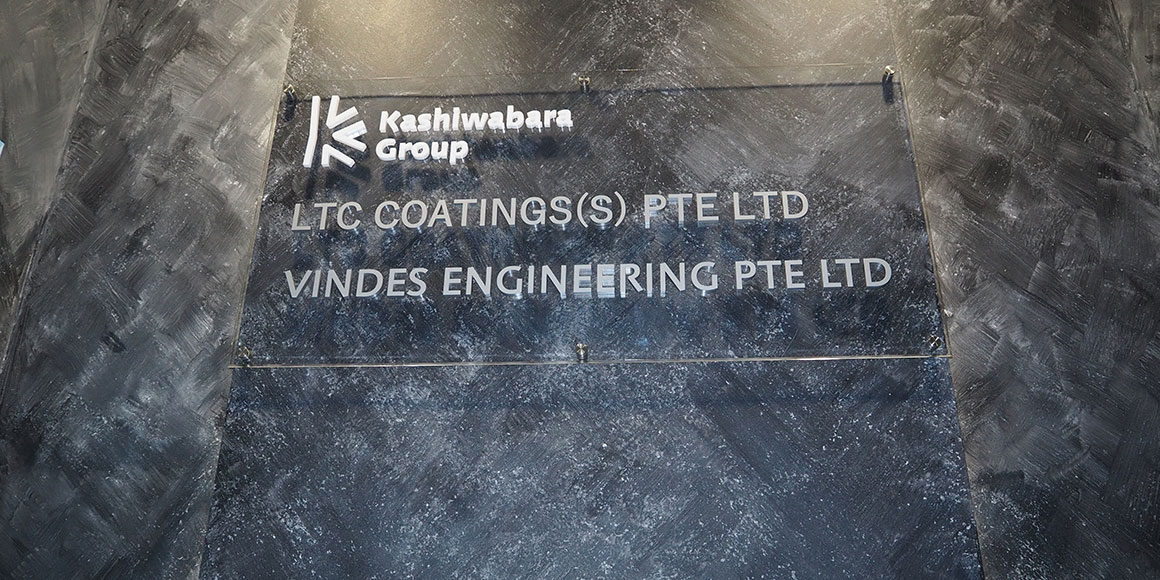 ABOUT US
About LTC Coatings
LTC Coatings(S) Pte Ltd is established in 1998 and has since steadily built a valued client base anchored to two key principles: Quality and Efficiency.
These principles have helped us garner repeat business regularly and are deemed vital to our continued success.
Having been recognized as a BCA registered specialist contractor for CR09 (Repair & Repainting) and CR13 (Waterproofing Installation), we are honored to be recognized as a preferred applicator for Nippon Paint, a leading paint manufacturer in Singapore.
At LTC Coatings, we pride ourselves on solving building maintenance problems efficiently and effectively. We make meticulous preparations to ensure a fabulous finish and use only quality products matched to professional skill sets to achieve the highest standards for optimum customer satisfaction.
Our Philosophy
Professional Practices

LTC Coatings constantly seeks to offer the highest standard of service for every project the company undertakes. Our professionally-trained staff understands we can only satisfy the most demanding client by implementing quality work procedures.

To achieve our goal as mentioned above, we aim to:
・Only solicit raw materials from trusted suppliers
・Minimise all on-site quality issues
・Implement mandatory training/refresher courses for all our staff

LTC Coatings is a first-class company, and our internal and external workings shall reflect that, regardless of project scope.

Professional Products

We observe all the industry guidelines and ethics. This commitment ensures that we use only top-rate products in every endeavor.

Professional Assurance

Beyond lip service, as evidenced by our numerous ISO recognitions and industry documentations.

From pre-planning onwards, each project will be assigned to a dedicated team whose tasks include inspecting the area, acquiring permits, protecting/covering items,
maintaining traffic flow, and setting up and scaffolding. Upon handover, we will inspect the work alongside the client to ensure that every detail has been covered to our mutual satisfaction.

As one of the top construction companies in Singapore, we will never compromise on quality control issues.

Professional Maintenance

A lackadaisical attitude towards site cleanliness and safety will never be tolerated; safety; LTC Coatings shall always observe the full range of bizSafe STAR regulations.

Professional Quality

Simply put, we seek to satisfy all your queries and concerns quickly, efficiently, and cost-effectively.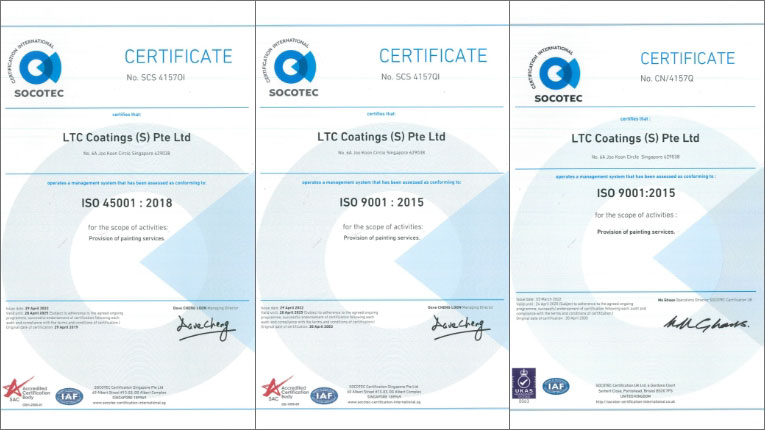 ・Safety
- ISO 45001:2018 certified
The international standard for occupational health and safety management systems
- Ongoing training for rope access operations (external organization)
・Quality
- ISO 9001:2015 certified the international standard for quality management systems
Our Accreditation & Membership|Our Partners
BACK TO TOP